A Beginner's Guide to Using the OpenCorporates API to Power Your Investigation
Need to search for companies and their directors at scale to support your investigations? Simply use the OpenCorporates API.
Attend this free beginners' tutorial designed to equip you with the basics you need to access company data across 140 jurisdictions as structured data. You don't need technical skills – all you need is an internet browser or Excel.
Attendees will be required to watch a video tutorial ahead of the session, alongside a comprehensive tipsheet. Both of these are available below.
Then, during the session, you'll get a chance to ask Rebecca Lee questions about the API service, and trouble-shoot your application of the service to your own investigations.
Please watch this video explainer ahead of the session start and come along with your questions about how OpenCorporates and the API service work.
Please also download this tipsheet for your reference.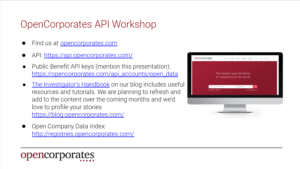 This course is part of the #CIJSummer Investigative Journalism Conference 2021.
Date: 8 July 2021
Time: 12:30 till 13:30 (BST London, UK time).
Group size: max 50 people.
Class duration: 1hr x 1 times a day x 1 day
Level of participation: medium, with dedicated Q&A section
Technical Requirements
This course will need you to have the following software/apps/tools on your computer:
Zoom app
Camera and audio
This course will be hosted on Zoom. To find out more about how we use Zoom, please check out our Zoom InfoSec page.
Rebecca Lee is the Chief Impact Officer at OpenCorporates, the largest open database of companies in the world. OpenCorporates' core mission is to promote global corporate transparency by making the world's company data open to all, shining a light on the existence, ownership and activities of entities, and the people connected with them – particularly to tackle the use of companies for corruption, money laundering and other anti-social purposes.
8 July

2021

12.30–13.30

British Summer Time (GMT+1)
British Summer Time (GMT+1)
Location: Zoom meeting
The COVID-19 response has put a spotlight on health sector spending, be it protective equipment for front-line staff, vaccines, or medicines. Globally, US $13 trillion is spent on contracts with private companies each year and spending on health is one of the largest areas – and also one of the most opaque.
Fully booked:
5 July 2021