The aim of this bursary scheme is to train people from underprivileged backgrounds, who aspire to become journalists or who are journalists at the very early stages of their career.
We knew Lyra personally at the CIJ. She attended #CIJSummer Conferences and training in London and Dublin.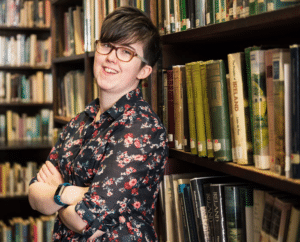 The Lyra McKee Journalism Training Bursary was inspired by Lyra's determination to become an investigative journalist: despite personal disability, the need to care for her disabled mother as well as fighting the in-built bias against working-class entrants to journalism.
It was launched in 2019 with 11 people attending #CIJSummer Conference 2019.
The bursary scheme is funded by The Lorana Sullivan UK Foundation and the Lyra McKee Foundation.
We especially welcome applications from people of colour, people from poorer backgrounds, people with disabilities, carers, members of the LGBTQ+ community, travellers and anyone who cannot afford to pay for the #CIJSummer training. It is open to UK and republic of Ireland residents only. Applicants must be 18 years old.
CIJ Lyra Mckee Bursary Scheme Facts and Figures 2019
While we have a funder for this bursary scheme, if you want to make a donation and support it, all the money raised will go towards bursaries and will enable us to offer more places to candidates. Please donate here.
Testimonials:
"I had previously I'd thought that being an investigative journalism was a far off dream career that I didn't really understand or know how to pursue. […] I felt encouraged by the feeling of belonging to a collective of people who all had the shared belief and desire to hold power to account."
"The experience blew my mind!"
#CIJLyra McKee in the media:
Partners