Story-Based Inquiry Method – Online
This four-part online course, which takes place over four days, gives you the basics for starting, deepening, organising and writing an investigative report.
Dates: 3, 4, 10, 11 May 2022
Times (for each day): 7pm till 8:30pm (London, UK time).
Group size: 35 people.
Class duration: 1.5hrs x 2 days a week x 2 weeks
Level of participation: high, with regular Q&A sections.
The course sets out the Story-Based Inquiry (SBI) method, which has been successfully used by thousands of journalists, academics and NGO researchers since its publication by UNESCO in 2009. The method can be used for feature writing or documentary filmmaking as well as reportage. Its language and approach have been integrated into leading journalism organisations and NGOs worldwide.
This is one of our most popular courses at #CIJSummer Conference.
"This method is a must for any investigative journalist. It will give you the tools to organise your material for the better. The manual equips with you a number of skills, but most importantly it structures your investigation. So when it comes to filing your story you are fully prepared and not looking for that quote in the cloud"
"This was the most useful course I have ever attended. Clear, hands-on, and superbly delivered."
"It was great. I'd do it again and I'd recommend it to people. I wanted to learn how to organize my reporting process and the course gave me just that. I'm already using some of the techniques in my work."
The course fee includes not only the lectures, but also the electronic versions of two of our CIJ handbooks – The Hidden Scenario and The Story Tells the Facts – that dive deep into the techniques covered in the lectures. If you prefer to receive hard copies of the books, you will need to purchase them from our website.
Technical Requirements
This course will be hosted on Zoom.
Our Zoom account's default settings have been modified to maximise information security and ensure all training participants' data protection and privacy. See details of our Zoom infosec settings HERE
Important
Our training is not recorded: if you miss a session, it is lost – you cannot watch a recording of it, nor will you be allowed to attend that session at a later date.
Dr Mark Lee Hunter is a founding member of The Global Investigative Journalism Network, the principal author of Story-Based Inquiry: A Manual for Investigative Journalists (UNESCO 2009) and the recipient of many awards for his reporting.
Luuk Sengers is an experienced teacher and investigative journalist. He lectures at universities and in newsrooms and writes data-driven stories for the leading Dutch magazine De Groene Amsterdammer. He is also the co-developer of Story-Based Inquiry.
3 May

2022

19.00–20.30

Timezone: BST (UK Time)

4 May

2022

19.00–20.30

Timezone: BST (UK Time)

10 May

2022

19.00–20.30

Timezone: BST (UK Time)

11 May

2022

19.00–20.30

Timezone: BST (UK Time)
Timezone: BST (UK Time)
Location: Zoom meeting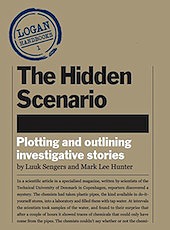 by Luuk Sengers and Mark Lee Hunter
The Hidden Scenario focuses on how making a scenario can help you investigate. Part One details the basic principles of constructing a chronology. In Part Two, we move on to the construction of powerful scenes.
£7 Buy Handbook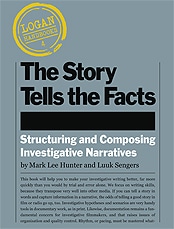 by Luuk Sengers and Mark Lee Hunter
This book will help you to make your investigative writing better by focusing on writing skills, because they transpose very well into other media. To order, please complete the order form. If you can tell a story in words and capture information in a narrative, the odds of telling a good story in film or radio go up, too.
£7 Buy Handbook