Andrea May Sahouri is on the breaking news team at the Des Moines Register covering police, crime, and justice. Andrea was recently arrested and pepper sprayed in Des Moines, Iowa while covering the protests that followed George Floyd's death.
Andrea is a Palestinian American, born in Flint, Michigan. She recently graduated from Columbia University's Graduate School of Journalism in 2019 where she discovered her love and talent for storytelling. Before earning her MS in journalism, she studied American Culture and Arab and Muslim American studies at the University of Michigan.
Summer Conference Event
—
Discussion
Whether it's the storm of false reports and unverified information that appear around protests, the danger faced by reporters on the ground from the police and security forces, or the close relevance of a protest to one's own experience and personal history, these events can be the most complex and difficult to cover.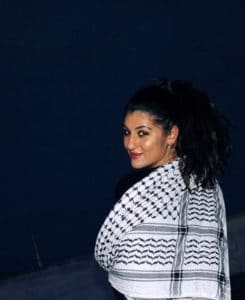 Reporter at Des Monies Register