Jimmy Donal "Jimbo" Wales is an American-British Internet entrepreneur. He is a co-founder of the online non-profit encyclopedia Wikipedia and the for-profit web hosting company Wikia.
In 1996, he and two partners founded Bomis, a web portal featuring entertainment and adult content. Bomis provided the initial funding for the free peer-reviewed encyclopedia, Nupedia (2000–2003), and its successor, Wikipedia. On January 15, 2001, with Larry Sanger and others, Wales launched Wikipedia—a free, open-content encyclopedia that enjoyed rapid growth and popularity. As Wikipedia's public profile grew, he became its promoter and spokesman. Though he is historically credited as co-founder, he has disputed this, declaring himself the sole founder.
Wales serves on the Wikimedia Foundation Board of Trustees, the charity that he helped establish to operate Wikipedia, holding its board-appointed "community founder" seat. For his role in creating Wikipedia, which has become the world's largest encyclopedia, in 2006 TIME named him one of "The 100 Most Influential People in the World".
Talks and Screenings
—
#LOGANCIJ
Is our news diet making us ill? As the mainstream print media retrenches and new kinds of partisan,"activist", corporate and fact-free "alternative" media fill the vacuum, the media we consume is full ofmore hidden additives than ever.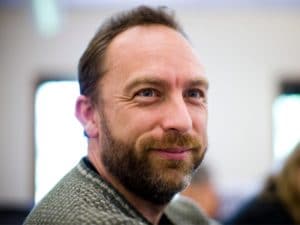 Co-founder at Wikipedia