Lyra McKee Bursary Scheme 2021
#CIJ Lyra McKee Investigative Journalism Training and Mentoring Scheme 2021 is now over.
Fully online, it was open to applicants over 18 from the UK and the Republic of Ireland only.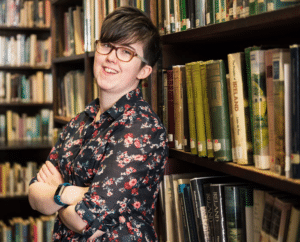 The CIJ Lyra McKee Investigative Journalism Training Bursary Scheme was established in memory of a young and courageous Irish investigative journalist Lyra McKee, who was shot dead by dissident republicans in Derry in April 2019.
The aim of this six months bursary scheme is to train and mentor people from underprivileged backgrounds, who aspire to become journalists or who are at the very early stages of their journalism career.
The Lyra McKee Journalism Training Bursary was inspired by Lyra's determination to become an investigative journalist: despite personal disability, the need to care for her disabled mother as well as fighting the in-built bias against working-class entrants to journalism.
It was launched in 2019 with 11 people attending #CIJSummer Investigative Journalism Training Conference 2019. Postponed in 2020 due to the Covid-19 pandemic, it is returning in an online form this year and includes a mentoring programme!
We are delighted to announce that Emma Youle (HuffPost UK) and Jenna Corderoy (openDemocracy) have joined us as this year's mentors.
In 2021 seventy people applied for the bursary scheme, eleven were selected in May and seven graduated in November.
The bursary scheme is funded by The Lorana Sullivan UK Foundation and the Lyra McKee Foundation.
While we have a funder for this year's bursary scheme, if you want to make a donation and support it, all the money raised will go towards bursaries and will enable us to offer more places to candidates. Please donate here.
The Programme 2021:
Bursary recipients were be offered training in investigative journalism skills, including data, storytelling, FOIA, information security and open source intelligence (OSINT), they attended #CIJCummer 2021 Online (5 – 7 July 2021) and had regular meetings with mentors, guest speakers and CIJ alumni.
This is a fully online-based bursary and mentoring scheme.
We especially welcomed applications from people from poorer backgrounds, people of colour, people with disabilities, carers, members of the LGBTQ+ community, travellers and anyone who cannot afford to pay for the #CIJSummer training. It is open to UK and the Republic of Ireland residents only. Applicants must be at least 18 years old.
#CIJLyraMcKee Alumni 2021

We are very proud of our 2021 alumni. During the duration of the programme and assisted by the mentors, most participants secured journalism jobs and internships following their training at #CIJSummer Conference, a fantastic measure of the programme's success. These include positions at BBC Scotland Disclosure team, The Times, Deutsche Welle, BBC Humberside. Three enrolled in an NCTJ course one trainee got a place at the BBC Future Voices Scheme, for bilingual reporters. Cherise Hamilton won Gold for The Creativity Award and Bronze for Best Current Affairs Podcast from Brit Pod Awards 2021.
You can read some of their stories published in 2021 here:
Disclosure. The Truth about BrewDog. by Mark Daly. Researchers: Jax Sinclair (CIJ Lyra McKee) and Katie McEvinney. Disclosure. BBC Scotland. 24 January 2022. (Available for the viewers in the UK only).
'Study drugs' Rife at Leading Universities by Dominic Kennedy, Arthi Nachiappan, Matthew Kayanja (CIJ Lyra McKee) for The Times. 27 December 2021. (Paywall).
Housing Doesn't Meet 'Basic Human Rights' Say Mitcham Residents Asked to Pay Repair Bill by Matthew Kayanja for SWLondoner. 29 November 2021
Cladding scandal: 93 buildings in Hackney deemed high risk by Charissa Cheong in the Hackney Gazette. 29 October 2021.
Data at First Sight: Telling the human story through numbers by Fatima Hudoon for exposingtheinvisible.org. 20 October 2021.
Coronavirus: Scottish Student on Life in South Korea During the Pandemic by Jax Sinclair for BBC Scotland. 29 May 2020.
Links:
Testimonials:
"I think it's a really generous scheme that genuinely wants to equip people with the skills to further themselves. The addition of mentoring felt vital to me. I've been for job interviews where the interviewer was very impressed with the fact I was on the scheme. Thanks so much.
"
"I had previously I'd thought that being an investigative journalism was a far off dream career that I didn't really understand or know how to pursue. […] I felt encouraged by the feeling of belonging to a collective of people who all had the shared belief and desire to hold power to account."
"The experience blew my mind!"
#CIJLyra McKee in the media:
Partners