Mary is globally and locally recognised as an expert in climate risk and energy management strategies. In 2017, she was chosen to represent the Business Council for Sustainable Development Australia on the innovation and research, development and demonstration task force of the UNFCCC's Technology Executive Committee. She is also a member of the International Energy Board of the Institute of Chemical Engineers (IChemE). Locally, Mary is on the Board of the Energy Efficiency Council (EEC) where she chairs the strategy committee. She won the Women's Agenda Leadership Award for Emerging Leader in the Private Sector in 2017.
With a Ph.D in Chemical Engineering and formerly the Chief Operating Officer, Mary took on the position of CEO after 17 years in senior consulting and leadership roles at Energetics.
Following an introductory module held 9 June 2022, this second module focuses on the training and upskilling of select journalists in climate change science, renewable energy statistics, financial sleuthing, data sourcing and analysis towards the execution of data-driven investigative stories on green energy in Southern Africa.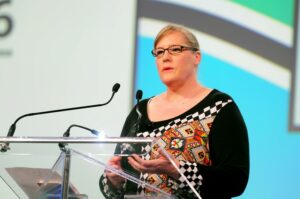 CEO at Energetics