Jenna Corderoy is a reporter for openDemocracy's investigations team. She specialises in obtaining documents under the Freedom of Information Act, and has brought several successful FOIA challenges at tribunal.
Her work on access to information has been widely recognised. In 2022, openDemocracy won Campaign of the Year at the British Journalism Awards for their work on transparency in British public life. openDemocracy's campaign was also nominated at the Press Awards that year. In 2021, she was shortlisted for Private Eye's Paul Foot Award for an openDemocracy investigation into the government's 'Clearing House' and the state of freedom of information. In 2019, she was longlisted for the Paul Foot Award and shortlisted for the investigations category for the British Journalism Awards.
Previously, she advised mySociety developers on the design of a new toolkit, WhatDoTheyKnow Pro, which helps journalists submit FOIA requests. She also specialises in requesting personal data under the Data Protection Act.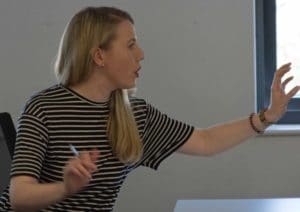 Reporter at openDemocracy