OCRI at Climate Change Media Summit and AIJC2022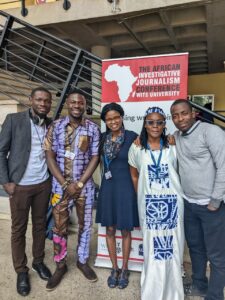 At this year's African Investigative Journalism Conference #AIJC2022 which ran from October 31 to November 2, our partners from Anglophone and Francophone Africa shared lessons on working with the CIJ as a partner and reaching about 200 journalists, researchers and activists/environmentalists across 19 African countries under OCRI.
The 60-minute session had Arnaud Ouedraogo from CENOZO, Nompumelelo Mtsweni from the Oxpeckers Investigative Environmental Journalism and Marie Louise Mamgue from ADISI-Cameroun as panellists with Akintunde Babatunde OCRI, Anglophone Africa Coordinator moderating the session on Climate Change Reporting in Africa: Myths and Facts.
In a similar fashion, OCRI's Project Manager, Adeolu Adekola, spoke on flooding and environmental disaster in Nigeria during the Centre for Journalism Innovation Development's maiden Climate Change Summit in Abuja, Nigeria on October 27. Watch here.