More Journalists Trained as OCRI Year Two Exceed Year One Numbers
We are now halfway into the second implementing year of OCRI which commenced April 2023 and we are glad that 327 beneficiaries have so far been trained directly across the 3 regions: Brazil & Lusophone Africa, South Asia, and the Middle East and North Africa (MENA). This number already surpasses the total trained in Year One (225), with more training still planned and comes alongside a successful partnership with UNESCO on the Climate Change in News Media project! Working with our 10 partners across the regions, we are excited about the prospects ahead and the other half of OCRI Year Two.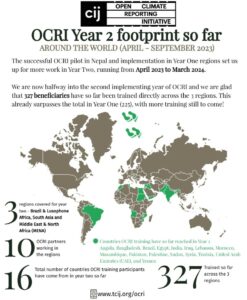 We have continued facilitating collaborative efforts across borders, especially through exchanging knowledge and skills between the parties involved. For example, towards building a trusted network of contacts across the globe to do investigations with bigger international impact, we gladly welcomed some of our Year One OCRI partners, trainees and regional coordinators to a special networking event organised in collaboration with JournalismFund Europe as part of the 2023 #CIJ Summer Conference. The Conference was our most diverse to date with speakers from Nigeria, Nepal, Cameroon, Spain, Lesotho and so on. From 4 different sessions in 2022, the OCRI strand focusing on environmental and climate change at the Conference increased to 6 (in the form of talks and workshops).
The peculiarities of Climate Change within the regions are obviously unique and give credence to OCRI's approach to ensure region/country-specific issues are reflected prominently in the training based on proven needs. It also explains our localised strategy for Year Two aimed at deepening engagements across board. OCRI did very well reaching Journalists across multiple countries (37) at the same time and widening the reach based on partners activities in Year One. However for Year Two, some of the countries we targeted have bigger populations and sizes than Year One. For instance, Brazil accounts for both 50% total population and land area of South America. Also, India is the most populous country globally with Pakistan being the 5th, Brazil is 7th and Bangladesh is 8th. Nevertheless, the beneficiaries have come from 16 countries across the regions.
As we continue our engagements, we earnestly look forward to use of the knowledge, skills, tools and techniques gained towards the stories that some of the Journalists will publish in the coming months.