EIRs without the Lawyer
Lucas Amin and Brendan Montague
Human beings depend on the environment for their survival. Industrialisation and development, for all their benefits, have led to the neglect, damage and destruction of the environment all over the world.
To order, please complete the order form.
The extraction of oil and minerals contaminates water supplies and threatens public health, intensive farming leaves land unusable for decades and unsustainable fishing is permanently depleting the oceans. The problem of climate change now looms ominously over the globe.
Journalism has played a vital role in raising public awareness and political acknowledgment of environmental problems. In 1962 Rachel Carson's Silent Spring was a catalyst for the birth of modern environmentalism, 36 years later the European Union signed the Aarhus convention to promote good environmental governance and this led to the implementation of the EIRs, which give the public a statutory right of access to environmental information held by public bodies.
The regulations apply to more than 100,000 authorities in the UK alone and hundreds of thousands, if not millions, more across the European Union and its member states. Recently, information disclosed through the EIR showed there has been more than 4,000 oil spills in the North Sea since 2000, for which companies have been fined just seven times. The EIR was also used to expose the giant subsidies received by the monarchy, aristocracy and agribusiness under the Common Agricultural Policy. Tate and Lyle received £227m in just two years while the Queen and Prince Charles took more than £1m between them. In June this year Request Initiative proved that the UK is fighting to water down EU green energy targets, a revelation that appeared on the front page of the Guardian.
The Environmental Information Regulations (EIRs) are a powerful suite of information access rules that can give journalists access to environmental data held by local, national and European governments and agencies. This handbook provides clear and precise guidance to journalists on how to make effective use of the regulations, from making a request to using the appeals process. The guide will provide a methodology and supporting resources to build a persuasive case for disclosure.
"This guide shows clearly why EIRs are a superior tool to FOI, and explains how to use them for maximum disclosure. And it's not just journalists that can benefit. Every citizen has the right to use EIRs to hold government to account; armed with the knowledge in here, it has just become a little easier to do."
Richard Black, former Environment Correspondent for BBC News; Director of Communications with the Global Ocean Commission.
"A helpful and thorough explanation of the complex regulations around accessing environmental information and how to make sure you get your hands on it."
Louise Gray, Environment Correspondent, Daily Telegraph
"This excellent book prescribes easy to follow advice on how to write requests and get disclosures. It teaches the method behind a sound appeal and contains concise notes on how you can try to overturn decisions that go against you. Highly recommended."
Damian Kahya, Editor of Energydesk, Greenpeace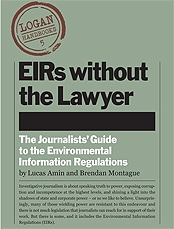 by Lucas Amin and Brendan Montague
Price – £5